Cruising on Quantum of the Seas

I was away for holiday on Royal Caribbean's Quantum of the Seas for a round-trip cruise departing from Shanghai and docking at 3 ports in Japan; Kochi, Nagasaki, and Fukuoka. I thought I had it all well prepared but still came across challenges along the way, and now I am sharing tips with the hope that you may benefit from this.
This is not a tech post but touches a little bit of tech elements.
Book early
I booked my cruise and subsequently flight ticket about 3 weeks prior to the sail date. Ideally, these should be booked well ahead of time so that you have more options on room choices and cheaper flight tickets. By the time I booked the cruise, the cheapest windowless room option was already sold out. This was what I wanted because Quantum of the Seas has virtual balcony for these rooms.
It is better to have a room facing dock side. Kochi Japan gave a warm reception which includes drum performances as the ship is about to dock.
Download Royal Caribbean's mobile app
It is called the Royal iQ.
Download their official mobile app prior to cruising. Internet access is not required to use their app while on ship but you have to download the app with internet access.
Their app allows you to view daily itinerary (called Cruise Compass) and reservations.
The links:
Authorise debiting your credit card for onboard purchases
You have the option to authorise Royal Caribbean to debit your credit card for purchases made onboard. You can do that via their website. I would recommend doing so. Do check the final statement delivered to your stateroom on the night before the last day of cruise. You could also check for charges incurred via the TV in room.
If you choose not to do so, you would have to queue up at the guest services section to clear your payments.
Secure double-entry visas to China if visa is required
Given that this cruise is a round trip starting from Shanghai, Travel visa to enter China is required for Malaysians and actually need one with double-entry. I initially obtained a single-entry without thinking much about the re-entry. You are not going to get much help from the cruise company on this, it is all left to you. You may not be allowed to board without this. Once I got my passport back with the single-entry visa, I immediately re-applied for double-entry visa. In doing so, the initial single-entry visa was cancelled.
Pre-pay gratuities
The concept of paying gratuities is new to me. Generally, Malaysians do not practice the culture of tipping for a service so this comes as a surprise to me. It also means it was not budgeted for initially. I understand that staff need to be paid but these should be included into the advertised lump sum cost of cruise. Besides this, they should also include the port taxes, and any other taxes involved into the lump sum. They do so now but only for Australia.
The only way to make this a bit less painful is to pre-pay gratuities because a minor discount is given.
Amount of gratuity is multiplied by number of days. Partial day is counted as a full day. They ought to count by nights to be fair to customers but the industry norm seems to be by days. Link to Royal Caribbean's gratuity price and policy.
Know your ports of call
Find out how close or far the ports are from the closest public transport. If they are nowhere near any, I would suggest that you book one of the excursion packages offered by the cruise. This takes out the need to worry about transportation not just to the main attractions but also guarantees that the ship will wait for your tour bus' return. Of course, you must return to the tour bus as per the agreed time.
Of the 3 ports of call, Kochi port was the only one where I took up an excursion package because I could find neither sufficient evidence that taxis will be at the port waiting for our arrival nor any public bus stops within walking distance. However, I could not book this excursion online prior to the trip. Somehow their online system disallowed this. When I attempted to book excursions for Nagasaki and Fukuoka, I could. Even after I got onboard, I still encountered the same issue when using their kiosks to book. Their kiosks are called iQ stations. I quickly informed one of their staff manning the shore excursions area about this. They then activated it to allow for reservations.
As for Nagasaki and Fukuoka, I studied the train, tram and bus routes with the help of Google Maps. Note that you will need to walk a lot. Years ago, I met an old Japanese man who could walk up a path with quite a steep incline leading to Nagasaki Peace Park where this man outpaced me by a big margin. Know your limits, and if you have dependents, please consider their limits too.
Shanghai Pudong Airport to Wusongkou International Cruise Terminal and back
Having been to Shanghai once about 8 years ago, I remember it as a place with dirty air quality, people who would spit anywhere, rude and would cut queue where possible. Not everyone in China is like that but there are enough of them to make you feel disgusted.
SCAM ALERT: Upon my exit from the airport and about to take a taxi, two men approached me. One asked me where I was heading to and so I replied Baoshan Road. He then said RMB230 for that. Having checked prior to my travel that it costs about RMB220 for that, I did not think it was a bad option. Also, there was only one taxi waiting outside the airport in the early hours and having been cheated by China taxis in my past trip, I decided to give this one a try. However, after walking for a bit they asked me specifically where along Baoshan that I wanted to go to. I replied Wusongkou Cruise Terminal. He then upped the charge to RMB400 claiming that taxis would charge RMB8 per kilometre and that the travel distance would be around 60 kilometres. Furthermore, he claimed that taxis pass on toll charges to the passenger which adds further cost to me. The other man was wearing airport staff vest which seemed to legitimise them. They issued me a receipt: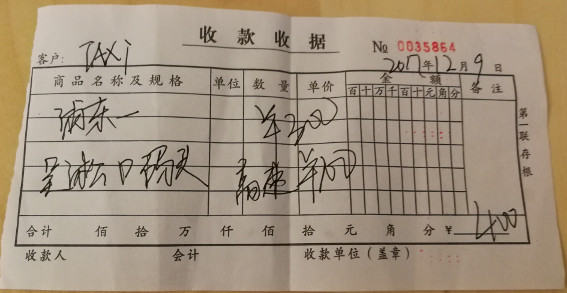 Upon my return, I googled and found out that this scam has been going on for years which highlights the reluctance of local authorities in solving this menace. I highly doubt they are unaware. These guys literally waited very close to taxi stand outside the airport.
From cruise terminal to airport, I strongly recommend taking a taxi. There will be dozens waiting at the port. I took a green taxi. The charge was RMB230 on meter and that was the nett fare. As I said, not everyone in China is bad.
Baggage delivery from port to room and vice versa
I suggest that you do not use their service. Firstly, they refused to take my backpack unless I sign a waiver form indemnifying any damage that may be incurred. Secondly, I had them taking my other hardcover cabin-sized luggage to room and they put the luggage outside the room with one of the zip sliders broken. If you are not convinced, I also met a person showing me one luggage wheel missing and one partially damaged.
Similarly, on returning to the port of origin, carry the luggage yourself to disembark quicker. Apparently, from observation, an overwhelming majority decided to do the same.
First meal onboard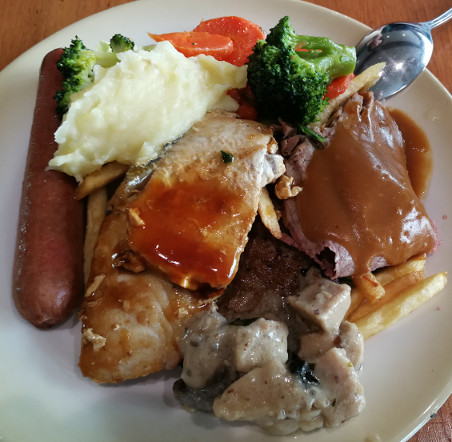 The first meal is a buffet lunch at Windjammers located on deck 14. You will have to bring your luggage along with you if you chose to carry them on your own to this place as the staterooms are not ready until 1pm. An announcement will be made via speakers when they are ready. In the mean-time, enjoy the first meal. Windjammers is the only complimentary buffet restaurant. More on restaurant options below.
Hand sanitisation at eateries
It is a requirement to have hands cleaned prior to entering eateries. There will be a staff squirting hand sanitiser onto your hand on entry.
Safety briefings
Having been on a cruise by a different company does not negate the need to attend safety briefings. For example, in my previous experience, life vests could be found in room and wearing them for the safety drill was mandatory. For Royal Caribbean, safety vests are not found in the room so pay absolute attention to safety briefings.
Drinks
Two 500ml bottles of water is provided as a welcome gift per room. This was not indicated clearly and many had assumptions that water bottles are provided on daily basis. I overheard a commotion between a customer and room attendant on this subject.
A small kettle is provided in room. I used it to boil water taken from sink in toilet. In my country, boiling water taken from tap before drinking is standard practice. Bringing your own kettle is strictly disallowed.
Tea and sugar are available in room though strangely no coffee sachets available. Good thing I am a tea drinker.
Hot and ice water are complimentary at every eatery. Besides that, a variety of tea is offered as well as a choice of regular coffee or decaffeinated. The proper way to fill in your own water containers is to first fill in a mug then pour from the mug into your own water container.
In case you like honey with your tea, they are available in small sealed packs only at Windjammers. There are juice-labelled dispensers at Windjammers but these dispense plain water. Not sure why the mislabelling. Juice, soft drinks and wine can be ordered for a fee.
Hair dryer
Hair dryer is provided in room. Bringing your own is strictly disallowed. You will not be able to smuggle one through as they x-ray scan your luggages.
Power supply and USB outlets
You can find 2-pin US variant and 2-pin European plug outlets in room. Also, there are 2 USB outlets. I did not need to use the international adapter that I brought along.
The kettle provided uses 2-pin European plug and the hair dryer uses 2-pin US plug.
Eateries
Snacks
Sorrento's Pizza as the name implies is a pizza place. It opens early and closes at 3am. Constant production of freshly baked pizza means you hardly need to wait for them to be replenished.
The Cafe @ Two70 is a cafe that serves sandwiches during breakfast, lunch, and dinner. I would not recommend this option for a proper complete meal.
Buffet restaurant
Windjammer is the only buffet restaurant that serves breakfast, lunch, and dinner. Here, you will find a lot of varieties. As mentioned earlier, this is the only place where you can find raw cut fruits. Windjammer also close late on port call days, up to 10:30pm so you should go there for fruits after dinner if you had dinner elsewhere. Everyone needs a good dose of Vitamin C daily.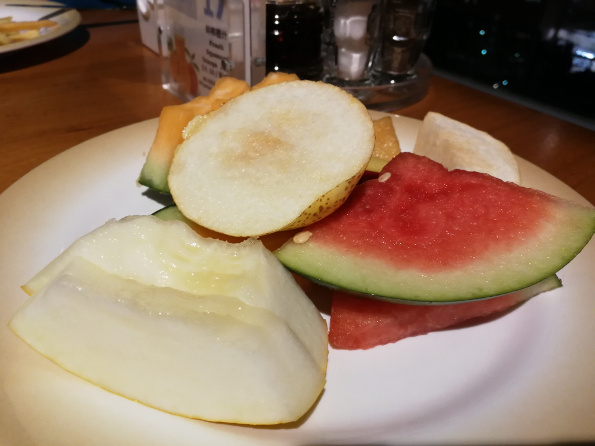 Non-buffet restaurant
The menu options stay the same throughout the cruise. Menu can be found on TV. There are 2 dining times to choose from; 5:30pm and 8:00pm. Last entry is 30 minutes after the start times of each. The latter is a more logical choice. If you are hungry before meal time, you can head to Windjammer or grab a quick bite of pizza at Sorrento's.
TIP: The only day that you need to queue for dinner is the first day. After dining at one of the options below, you could request the waiter to book your choice of restaurant for the following day or the day after.
American Icon Grill serves breakfast, lunch, and dinner. Although its name suggests that it is serving grilled American food, they do serve Chinese food too.
Chic serves breakfast and dinner. Its breakfast option is identical to American Icon Grill but they serve mainly international guests whereas the former is more for mainland Chinese.
Silk serves dinner.
Grande serves dinner. This is my favourite. I had stewed lamb shank and escargots.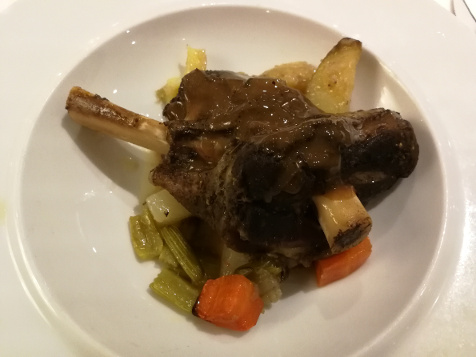 Paid non-buffet
Given that I tried mostly the complimentary options, I could not comment on most of the paid options. On shore days, I chose to spend on good Japanese meals on land.
Kung Fu Panda Noodle Shop serves noodles and Chinese desserts. It is open until a little past midnight. This is not a fee-free dining option but it is relatively cheap against all the premium ones. It is located next to the pool. You may need to wear warm clothing while dining here during winter.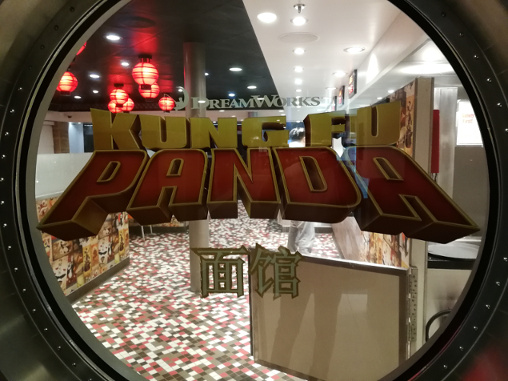 Room service
I tried accessing room service via the TV but somehow it just hangs when attempting to place an order.
Low humidity in room
I come from a country where humidity hovers between 70% and 80% outdoor. The room's humidity was too low. Just to share how serious, my nose bled in the middle of the night. There are two small towels in the toilet which can be soaked and hung somewhere in room but I did not gain much help from that.
Internet access
The cruise offers Internet access for a fee of USD15/day. 3 days of that equates to a month of my regular internet access bill. Therefore, I did not signup for this.
Upon arriving at Kochi port, there was a tent where free rental of pocket Wi-Fi was offered. I did not want to miss the tour bus so I did not spend time on queuing up for this.
There are lots of free Wi-Fi spots throughout Japan. Whilst so, generally I find better success connecting from convenient stores. To simplify connecting to them, I recommend installing the Japan Connected - free Wi-Fi app.
Do run the app and signup before cruising as it requires internet connection for the initial setup.
Tip to help you navigate around:
Go to the nearest convenient store where internet access is available.
Run the app, initiate connection.
Launch Google Maps, navigate to destination.
Follow the path as suggested by Google. Sustained internet connection is not required.
Time zone
If you enabled roaming on your phone and if it has automatic time synchronisation, your phone's time zone will change to one that is somewhere in US though I am not exactly certain which one. This is going to be a problem if you have alarms set. Therefore, I recommend switching off automatic time synchronisation.
Royal Caribbean uses local time in all their itineraries. The itinerary will tell you exactly when to switch time zone. China is GMT+8 while Japan is GMT+9. Neither countries have daylight saving.
Do NOT be late in returning to the ship as they will not wait for latecomers.
Shore excursions
When boarding the ship, your passport has to be surrendered to the ship. Prepare a photocopy of your passport before your trip. If you did not bring one along, visit guest services onboard to have them print one for you. They do not require your original passport to make a copy as they already have the copy in their system.
Japanese immigration staff will board the ship to setup temporary booths that serve as immigration counters. They will paste a sticker at the back of the photocopy of passport. Do not lose this as you will need to reuse it for the following days and hand in before boarding the ship on the last port of call. Going through immigration is required only on the first port of call day. You need to present yourself to the immigration even if you do not intend to disembark on the first port of call. Expectedly the immigration process is not quick and confusions may arise as to which bus to board.
Performances
On most nights there will be performances. All of them are complimentary. Two venues are used for performances; Two70 and Royal Theatre.
Two70
Performances at Two70 for some shows allow for bookings and where such is the case, you should book. Seats at Two70 are limited. Therefore, some shows at Two70 are held twice. Pick a schedule that suits you. Bookings can be made onboard via Royal iQ stations.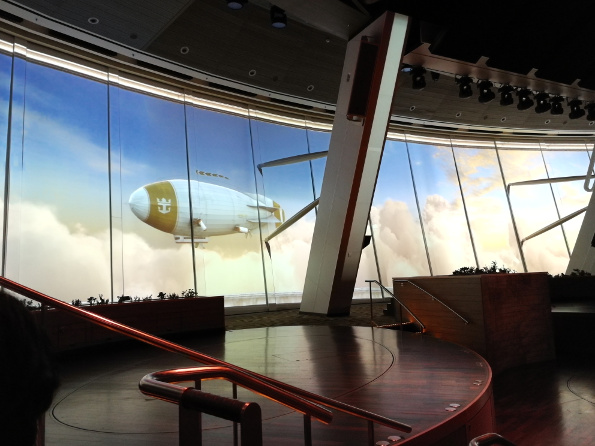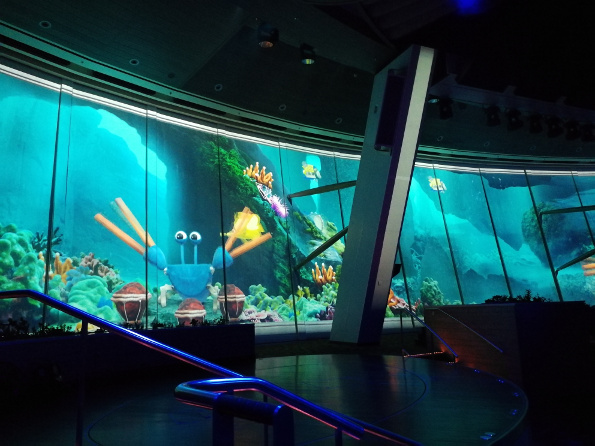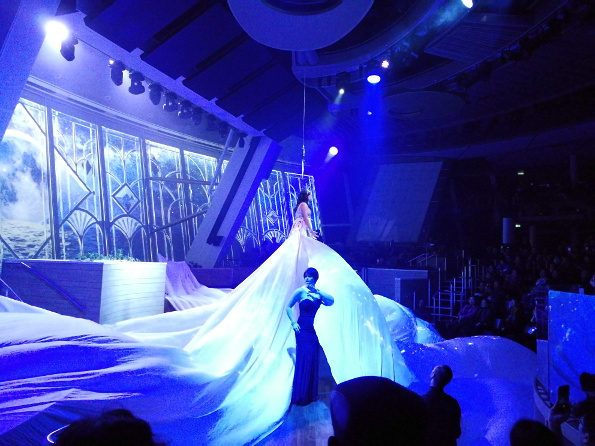 Royal Theatre
Performances at Royal Theatre do not allow bookings.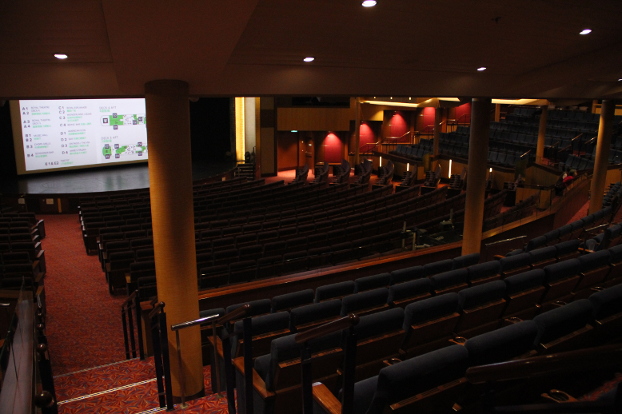 Outdoor movie nights
During winter season, literally no one watched movie outdoors.
Alternatively, you can bring your favourite movies along with you. For example, Netflix allows offline watching if you pre-downloaded them.
Xbox
Xbox is free to play but most of the games are demo versions unless someone logged into their account but forgot to logout. The Xbox consoles have internet access.
Collecting your passport
This can be done in the afternoon on the day before the last day.
Later than expected docking time at Shanghai Wusongkou Terminal
A notice was delivered to my room, if not mistaken on the 5th day out of 7 days. The notice was to inform me that whilst the initial schedule of docking at Shanghai was 7am, it was delayed to 10am. Passengers who were supposed to board a flight before 4:30pm were strongly advised to reschedule their flights. On the day of disembarkation, we were out of the port including passing immigration by about 11am. Taxi to Shanghai Pudong airport takes a bit under 1.5 hours. There should be enough time to board a flight scheduled for 4:30pm but you ought to give yourself some buffer.
Closing words
Hope that found this post useful.