GitHub, VSTS, Google Cloud folder icons

Set folder icons for your favourite source control repositories.
Motivation
So that the folder icon is not just a boring yellow folder.
Steps
Downloading the icons
The direct links to the icons:
I recommend placing the icons within their respective folders. i.e. GitHub's favicon.ico should be downloaded into GitHub folder.
Setting the folder icon
Right click on the folder, click on properties, click on Customize tab, and Change Icon.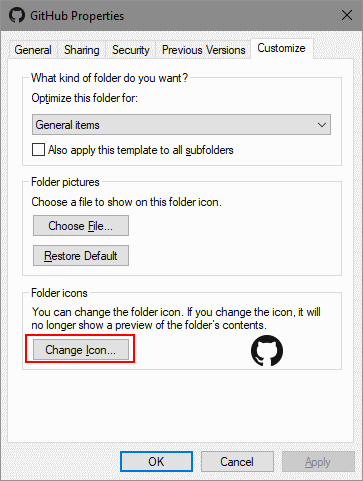 Browse to the location of the icon. That is it!
Notes
Google Cloud Source Repositories grey colour icon
In the screenshot above, Google Cloud icon is grey whereas the link I shared has blue, red and yellow colour.
The reason for that is Google Cloud Source Repositories icon is grey whereas Google Cloud in general is not. I wanted my folder icon to match the former however their favicon is a PNG file. Windows accepts only ICO formats for folder icons. If you want the grey version, you have to download Google Cloud grey PNG favicon and convert that to ICO format.
If this is too much effort, I suggest sticking to the non-grey version.