Antivirus for Android
I believe most people have antivirus running on their PC/notebook especially if they are on Windows. Somehow most people do not seem to have the same urge to have one on their mobile.
Introduction
I do not know about you but I always have antivirus on my Windows desktop/notebook. When it comes to antivirus for mobile, the question here is, why not?
Why you should have antivirus for Android
If you insist on needing the reasons, here are some:
Apps that are trusted today may go rogue.
Most people say yes to every permission required by apps.
Many apps are ad-supported and there have been history of infections coming from malicious ads.
Installing apps from untrusted sources (outside Google Play Store) for whatever reasons.
Nowadays, the popular ones tend to bundle along some extra features such as:
Anti-theft
System cleaner and performance tuning
App locker and/or protected file vault
Desktop antivirus
Just to briefly touch the desktop side of things, before having SSD, it was terrible experience waiting for Windows Malicious Software Tool to complete running. Does that name ring a bell? It is one of those that frequently come along in almost every tranch of Windows Update.
I gave Avast a try about 3 years ago specifically because it was lightweight and free, and have not looked away even after switching to SSD.
Mobile antivirus
Given the good experience with Avast, I thought I should give it a try on my Android Nougat then I read that Avast has acquired AVG.
Comparing both of them on Google Play Store solely by popularity, it seems AVG AntiVirus has the upperhand; 5.66 million against 4.68 million (as at 16th April 2017).
Surely that was not the only reason that swayed me to try it. I had AVG installed on my previous phone, Samsung Galaxy S3 International Edition, the one with 1GB RAM. That amount of RAM simply was not enough and I had to endure apps getting autokilled and restarted. To overcome, I offloaded some apps maintaining the bare minimum that I needed and AVG had to go at that time.
Now, I am giving this antivirus for mobile a revisit.
Getting started
Welcome Screen
Greeted by a Welcome Screen: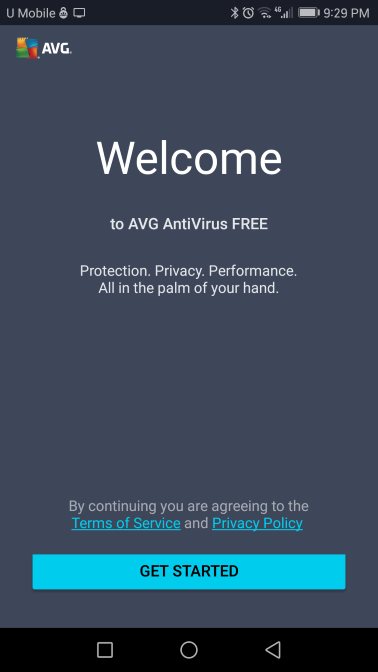 Noticed the 3Ps? Make that 4 with the word palm.
Ad-supported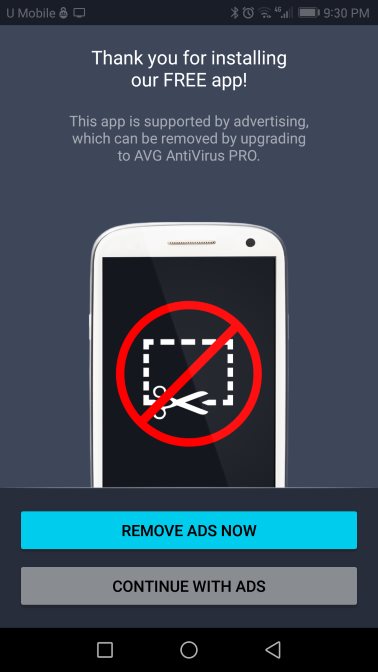 During Easter 2017, AVG was offering annual subscription for MYR19.90 instead of the usual MYR33.50.
Monthly rates are MYR4.99 instead of the usual MYR8.50.
MYR = Malaysian Ringgit
To my best knowledge, the subscription price varies by country.
Main Screen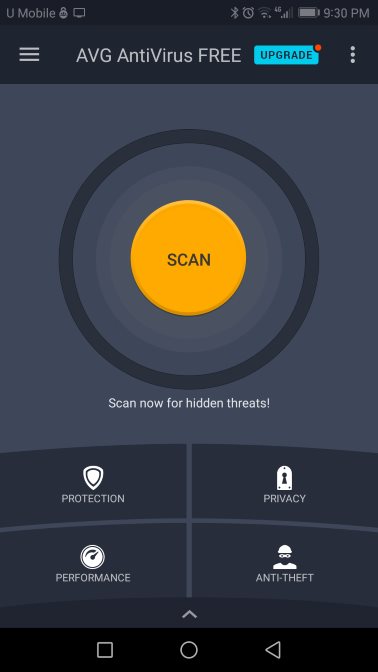 Simple with a large scan button so obvious that it is hard to miss. Took 11 seconds to finish scanning.
Value added features
Anti-theft
You will need to create an account to use this feature.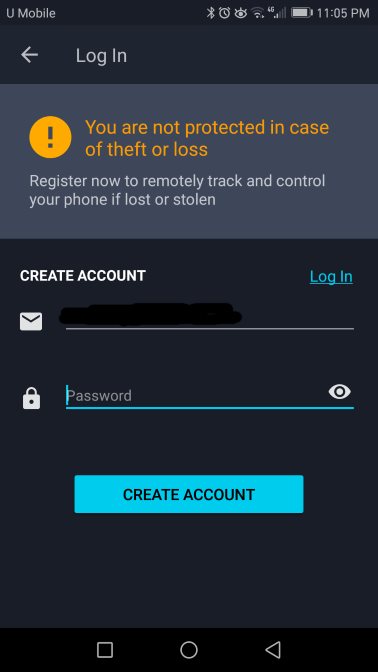 After creating an account, you can test this functionality by visiting AVG Mobilation.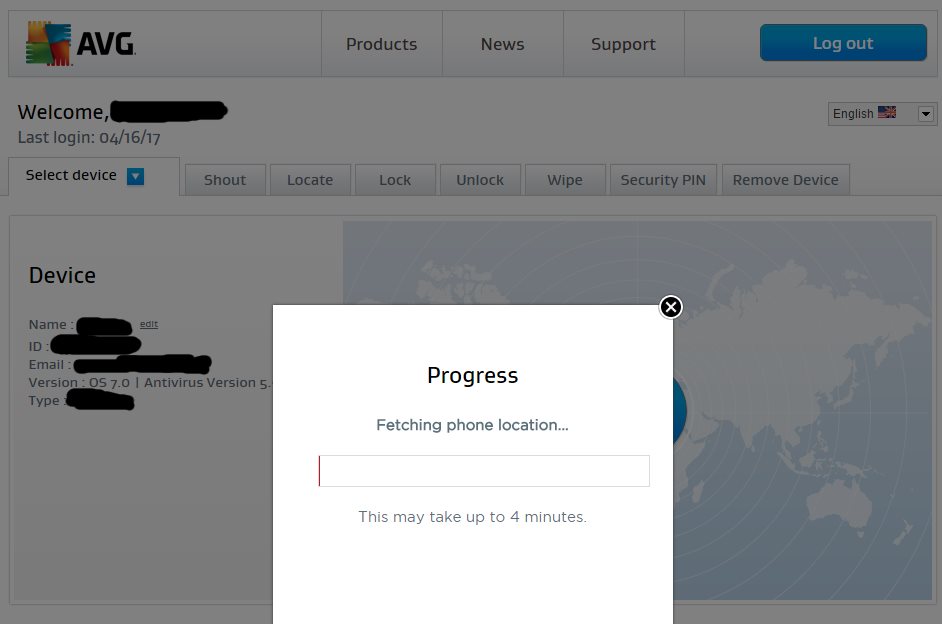 It managed to pinpoint the exact location of my phone.
Like most anti-theft apps, you can sound an alarm, lock, unlock, and remote wipe your phone.
Wi-Fi Security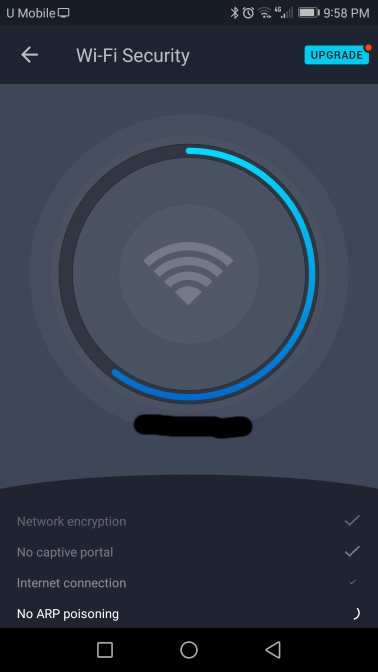 I do not use public Wi-Fi hotspots but if you do, the ARP poisoning test may come handy.
I am not able to test this piece to appreciate it.
App Lock
Parents that allow their kids to use their device are going to appreciate this feature.
It allows you to lock selected applications with a 4-digit PIN code.
i.e. You could lock your WhatsApp while allowing games to be freely accessible.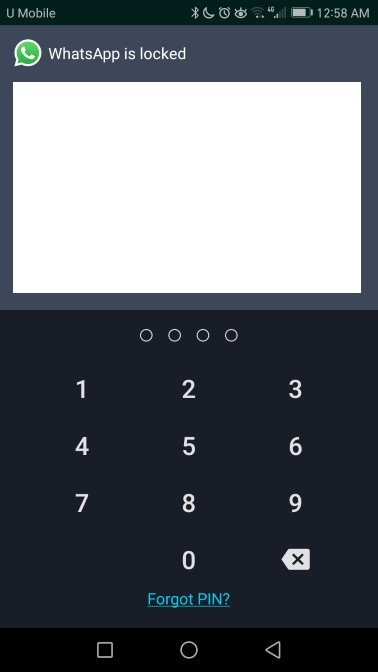 This feature is part of the PRO features. PRO trial period starts upon first install of the app. During trial period, ad appears in the white block area.
Vault
This is for storing private photos. Correct PIN entry is required to access the vault. Photos stored in vault do not show up in Android Gallery. Caution when deleting photos from vault as there is no confirmation prompt.
Just like App Lock, this is also part of the PRO features. Antivirus companies tend to charge for value added features as basic antivirus features are offered for free by various vendors.
Secure Search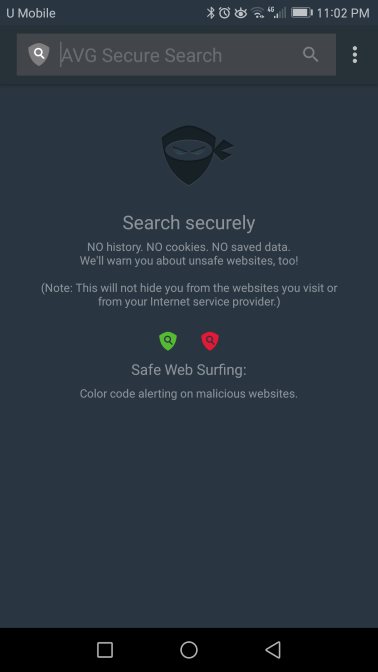 To me, this looks like Chrome's incognito except that AVG redirects my search to Yahoo!
Battery Usage
Some estimates on how long more before juice runs out.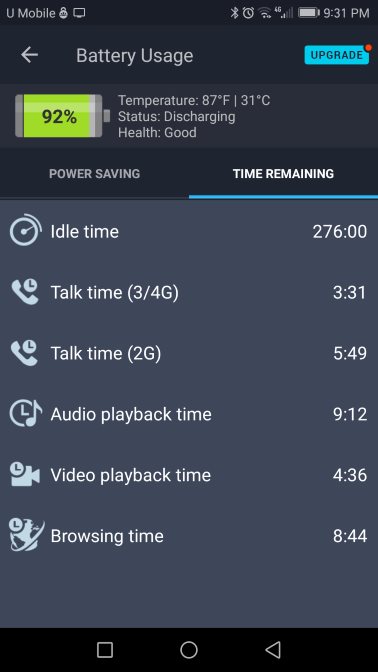 Memory Usage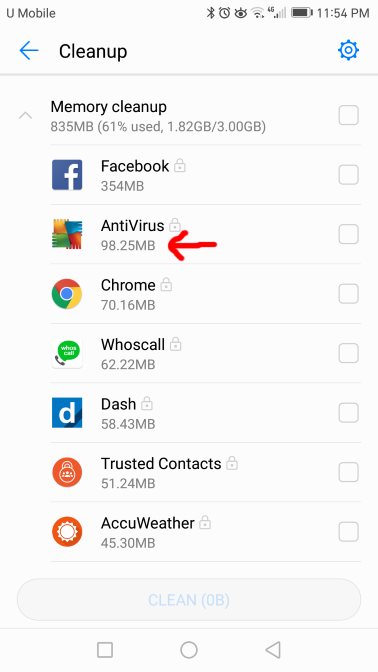 98.25MB. A few other apps in the list for reference.
Other features
There are a few more features in the app that I did not test primarily because I have been using other apps for the purpose. i.e. Call Blocker, etc. This antivirus app should probably be called a security suite.